NOW AVAILABLE ON EARTH
at DREAM GOLD
A century ago, Nobel Prize winner Dr. Henri Moissan discovered minute quantities of a new mineral in an ancient meteorite in the remote Diablo Canyon in Arizona. At its essence was the potential for an absolutely shimmering brilliance, fire, luster and incredible hardness. However, the available quantity of this natural moissanite mineral was too limited for use in jewelry.
Inspired by Dr. Moissan's discovery and employing the latest innovations in science, Charles & Colvard has at last found a way to create moissanite for use in jewelry.
For more information call us at
281-493-1660 or E-mail
moissanite@dreamgold.com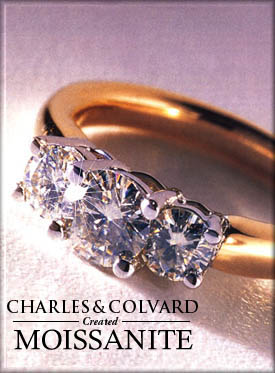 To view a beautiful selection of fashion rings , Wedding sets, to set your Moissanite in click these links.